Spinal Cord Injuries (SCI) are traumatic experiences. They can be debilitating and their symptoms can last a lifetime. However, there have been cases where an SCI was treated effectively and the symptoms were reversed. 
A man named Chris Barr has managed to win back his mobility and regain a remarkable amount of control over his life after a devastating spine injury. 
Chris Barr's Spinal Cord Injury
Mr. Barr received "the worst news of his life" from a doctor in 2017. It was shortly after the 53-year-old weekend warrior was thrown off his surfboard near San Francisco, something that had happened to him countless times in the past. 
But this time was different, and he flew headlong into the sandy ocean floor with enough force to cause a catastrophic neck injury. His doctor told him he was paralyzed; he would neither surf — nor walk, nor brush his teeth, nor pour his coffee — ever again. 
Due to the severity of his condition, Barr became depressed and even asked his family to take him off of his ventilator: Like many SCI sufferers, losing the ability to feel had left him feeling hopeless. 
That all changed when Dr. Mohamad Bydon, a neurosurgeon with the Mayo Clinic, approached the Barr family and offered them one thing they had all but lost; hope. Chris was chosen as the first patient in an innovative cell treatment pioneered by Dr. Bydon. 
Dr. Bydon's treatment involved taking some fat cells from one part of his body, and injecting them into his spinal cord. The initial results far exceeded expectations, and just six months after the initial injection, Barr was walking once again. 
Within a year, he was able to stand and walk on his own. Dr. Bydon's treatments are still considered "experimental" by the medical establishment in the USA and Europe, but they have certainly turned heads in the neurological community. 
Not only have the Barrs been filled with hope, so to have many other doctors, surgeons, and SCI patients. But this is something we at Verita Neuro have known for some time. 
Spinal Cord Injury Treatments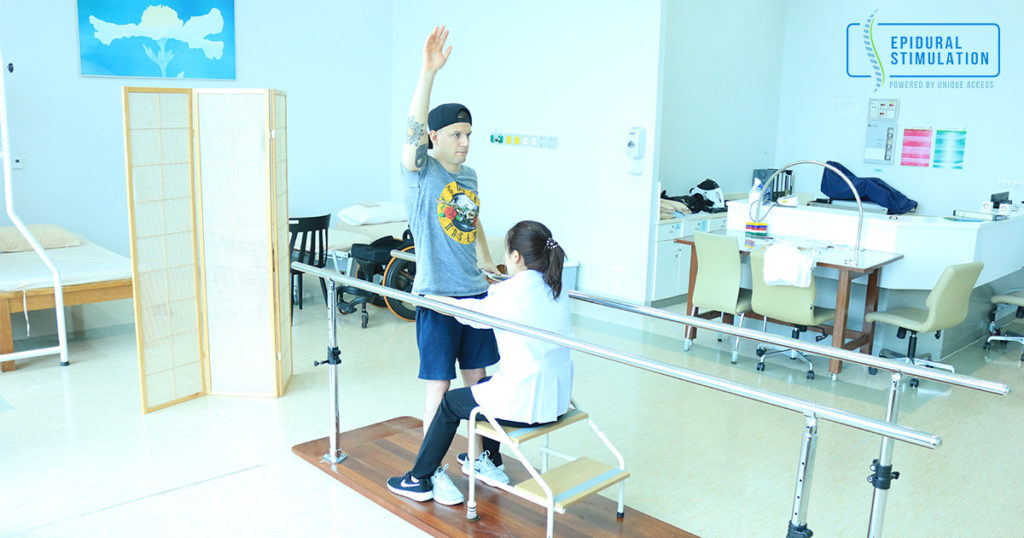 Cell treatments similar to the one Dr. Bydon conducted on Chris Barr are on offer in the many advanced, cutting-edge clinics and hospitals around the world. Verita Neuro's partner facility in Bangkok, Thailand, is one such hospital. 
It is there where we facilitate cell treatments for patients from all over the world, with outcomes similar to what Chris Barr experienced at Mayo Clinic. 
Patients with complete or incomplete spine injuries are treated at Verita Neuro with injections, plus extensive rehabilitation and supportive treatments from certified SCI experts. Our experience in helping paraplegics and quadriplegics is well documented, whether it's with cellular therapy, Epidural Stimulation, or a combination of both. 
Since 2016, our patients — with injuries at all levels of their spine — have achieved breakthroughs ranging from improved motor function, muscle mass, and strength to better sexual function, sweating ability, and bladder control.  
If you want to learn more about how Verita Neuro is providing SCI care commercially that places like the Mayo Clinic are only offering in clinical trials, send us a message. One of our treatment representatives will get in touch with you within 48 hours to answer your questions or set up a consultation with our SCI specialists.